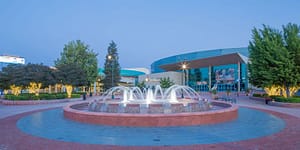 You may not have heard of Bakersfield CA because it is overshadowed by larger cities such as Los Angeles. For this reason, Superior Roofing would like to shine some light on Bakersfield and discuss important attributes.
To illustrate this historic city we will be touching on a few important topics that will give you a better understanding of this San Joaquin Valley city.
In this article you learn the following:
Location
Economics
Significant events
Bakersfield CA Geographical Information
The city of Bakersfield resides dead smack in the middle of the Golden State and is a part of the San Joaquin valley. Bakersfield is about one hundred miles north of the City Of Los Angeles and around eighty miles south of Fresno, CA.
In our opinion Bakersfield sits in a convenient location due to the fact just 100 miles west is the beautiful pacific ocean and approximately five hours east is sin city AKA Las Vegas.
Bakersfield sits in the south end of the California central valley and is within the Kern Count limits which also has Wasco CA, Delano CA, and Arvin CA. Bakersfield is by far the largest city in Kern County.
The Bakersfield Economy
Our economy is very diverse, to say the least consisting of oil field workers, law enforcement people, teachers, military, and farming professionals to name a few.
Bakersfield CA is one of the top producing oil cities in the entire nation and also generating agriculture at a rate that is fourth most in the United States.
As a result, Bakersfield and the rest of Kern County have a very strong industry which includes the following:
Mining
Energy
Agriculture
Distribution
Manufacturing
Food processing
Construction
As you can see there are many industries thriving in Bakersfield and the reason why some of the largest employers in the world have corporate in Kern County such as Chevron, C&J Energy Svc, and Edwards Air Force Base.
Bakersfield Events
Bakersfield is home to the Rabo Bank arena where there you will find many fun events happening all year long. There is a long list of concerts, hockey games, theatrical shows, and many more events Rabo Bank puts on.
One of the most significant events Bakersfield holds is the Kern County Fair which is an annual affair. People from all around come to enjoy the amazing food and festivities the Kern County Fair brings. Always a priority to attend on our list.
From night clubs to farmers markets Bakersfield provides many fun activities for all ages. If you are interested in more things to do check out the Visit Bakersfield website and they will supply an events calendar for you to browse through.
Final Thoughts
All things considered, this is a very brief write up of Bakersfield but wanted to give you a better idea of what our hometown is all about.
That being said this is simply the kick-off to future articles on Bakersfield so stay tuned and we will be putting out more very soon.