Like we mentioned before Superior Roofing is far from a one-dimensional roofing and construction company. Along with our experience in the roofing industry, we also provide other services for you as well such as central air conditioning services. 
One of them happens to be Air Conditioner Replacement. Summers in California are no joke and especially if you reside in of the Central California counties. Temperatures can easily rise over 100 degrees.
That being said if you're looking to replace your old A/C unit on your residential home or commercial building Superior Roofing is at your beck and call.
Let's dig in deeper on this subject and see if you're home is ready for a new A/C system.
Repair or Replace?  That is the question.
Are you curious if it's time to replace that old A/C unit you have had for awhile now? Or are you tired of hiring someone to repair it every summer?
If this sounds like your situation than Superior Roofing can help you out. First, you need to ask yourself some important questions and evaluate your current A/C system before you go and drop money on a new one.
Specifically, you're going to want to find the age of your Air Conditioner. This shouldn't be the deciding factor but Energy Star recommends if your unit is 15 years or older you should start to think about replacing the entire machine.
The frame of mind here is to be pro-active instead of re-active. The last thing you want is for your A/C to go out in the middle of the summer when it's 100 degrees outside. Now you have to find someone to install it and this may take awhile depending on where you live and companies available.
Replace the R-22
Another option you have besides replacing your A/C is changing out or topping off the R-22 or Coolant in your home's A/C. If you're handy with these types of things you can probably do it yourself but if you're not absolutely positive we suggest you leave it up to professional.
Now take into consideration that the R-22 in your air conditioner can cost you anywhere from $50 to $200 per pound including the labor to hire a contractor to accomplish this. In this case, you may be better off replacing the whole system.
This can all depend on the type of price you get for the coolant. Over the years, R-22 has ascended and most manufacturers will stop the fabrication of units that require this type of coolant due to the fact that the prices are extremely high when consumers have to re-fill.
Compare your bills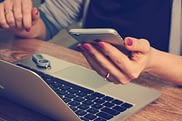 Another recommendation we have is to compare your past utility bills to your current bill. The indicator here is obvious. If your bill is noticeably higher than the past years that is a sign that you need to replace that A/C unit you have had for over a decade.
Besides from your bill being too high, if  the family is constantly complaining about the house being too hot when the A/C has been blasting half the day you may have an issue.
At this point, you will want to have the A/C serviced and checked. No one wants to suffer from the heat in the summer.
Tips and things to avoid when replacing the A/C
We all know a new A/C cost a pretty penny but what we see time and time again is the mistakes homeowners make while replacing their old units.
The main thing here is to not surge into the buying process. Take your time and do the research necessary when in the market for a new A/C. One of the best things you can do is talk to another homeowner that has recently gone through this process.
I'm quite sure they will break down all the headaches they had to deal with.
This is off subject but some of the best advice I have ever received was to learn from other people's mistakes and not yours.
Here is a list of things you can do that will save you money while you transition to a new system:
Be absolutely sure you have the correct size for your home. Too small and your unit will not put out the right amount of energy to make you comfortable. Too large and you can have a much higher bill than previous years. This will have you scratching your head.

Don't be cheap. Yes, a low price will get you ahead for a while but usually, when we spend a lot less on something we know we need quality in it hardly ever works out.

Hire a contractor you can trust. Superior Roofing has A+ rating on Angie's List and the BBB. We have the experience needed to accomplish a job like A/C replacement in a timely fashion and provide quality work at the same time.
All things considered, if it's not broke don't fix it. If you have a unit that is 20+ years old and is still making you feel comfortable with a reasonable utility bill then you are just fine.
If you have any questions about replacing your A/C please don't hesitate to reach out to us. We will glad to offer our expertise. Superior Roofing believes in the consultative approach to business. Our aim is to educate and build relationships before anything else.