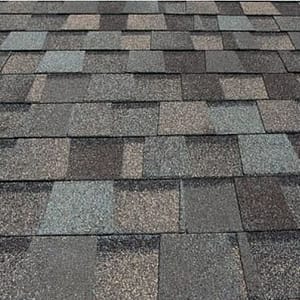 Architectural Shingles
Architectural roofing shingles are among the highest grade roofing solutions you can invest in. There are two different types of architectural shingles which are cedar shakes and slate. These roofing products will bring out the best in your home due to the random colors and finish. Steep roofs and gable roofs benefit the most from these types of shingles.
Eminent Estate Gray 3-Tab Asphalt Shingle
You can spot a 3 tab asphalt shingle by the cutouts on the lower edge and appears to the common eye to be 3 shingles when in fact it is only one. These asphalt shingles offer a clean and classy look. The 3 tab shingle is a great option when you're looking for weather resistance and add curb appeal to your Bakersfield home. You can find these popular shingles in classic colors that will bring out all the best features in your home.
When you're searching for a roofing contractor in the Bakersfield region that is capable of taking on residential projects we believe we are perfect for the job.
Whether the job entails a flat TPO roofing system or re-roofing your home we have the tools, technology, and manpower to deliver an amazing experience.
We are currently offering Free estimates and allow you to speak with one of our experienced estimators so you have the chance to ask all the questions you need to proceed.
How to Buy Asphalt Roofing Shingles in Bakersfield, Ca.
With all of the engineering advancements that have been made and the dynamic characteristics of the asphalt material, major manufacturers are able to develop a multitude of shingles.
If you live in the Bakersfield region asphalt shingles can help reduce cost, fight off algae growth, and cool down your attic with special stain technologies.
What we want to help you do is understand how to buy new asphalt roofing shingle for your home so you're confident when making a purchase decision.
If you go down most Bakersfield neighborhoods you will see the majority of homes having asphalt roofing and for good reason. Although may not be as attractive as tiles or other materials we believe you will get the most bang for your buck when you choose asphalt shingles.
Choosing the Asphalt Shingle That is Right for Your Home
When you speak with your roofing contractor in Bakersfield your going to want to get a selection of different types of colors, textures, and models. This could be an overwhelming task but your professional Bakersfield roofer should help you along the way with this.
An experienced roofer should be able to guide you in making the right decision. And depending on your style of home you may want to go with color schemes from different variants of grays, dark blues or even different browns to emulate a wood shake roof.
You will also want to buy your shingles from a trusted manufacturer like Certain Teeds, GAF, Owens Corning. Another tip is to be sure your roofing contractor who installs your asphalt roofing shingles are certified through this manufactures.
Understand the Warranty
One of the biggest challenges we see consumers face is getting the right warranty for their home and actually understanding what the warranty covers.
This is where good communication between you and your Bakersfield roofing company comes into play.
We would suggest doing some research on your roofing warranty for even more piece of mind. At Superior Roofing, we like to make it easy to understand about roofing warranties so you are able to discover the ideal option for your property.
Here are some of the questions to ask your roofing contractor:
1. How do I register my warranty?2. How and with who do I file a claim for my asphalt shingle roof?3. Is this a lifetime warranty? And if not how many years does the warranty cover?
The roofing contractor you decide to help you install your new roofing system should be able to explain these questions in detail.
Thinking About Soar?
If you're thinking about converting your home into solar energy you will want to have the solar company and your roofing contractor inspect the roofing and device a plan of action. They will need to inspect your structure and condition to determine if your new asphalt shingle roof will be able to withstand the weight of solar panels.
There are other factors that can come into play with your warranty here so it would be wise to be absolutely sure your asphalt shingle roof will not be canceled or limited.
If you're in need of a roofing inspection here in the Bakersfield, Ca. region we are here to help. Please fill out the form below or call our office line at (661) 679-6923